Celebrating 100 Years in Anniston
Sunny King Automotive Group is proud to celebrate a century in Anniston, AL. Join us in marking our 100th Anniversary on April 22, 2022.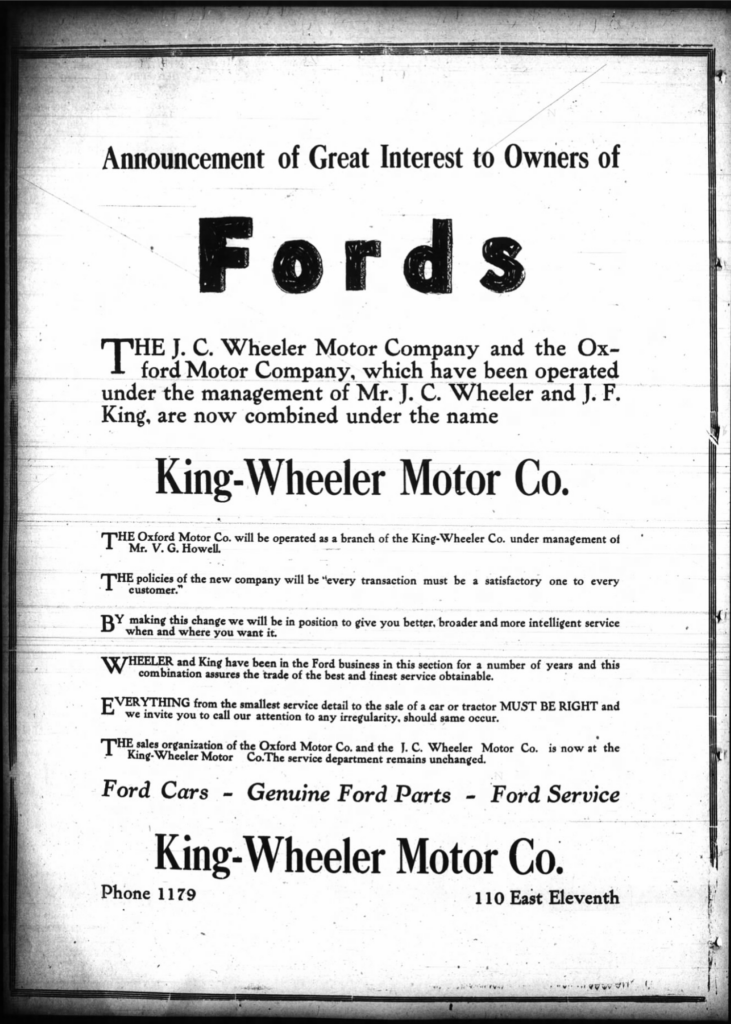 Sunny King Automotive Groups was originally known as King-Wheeler Motor Co. 
In the April 7, 1922 edition of The Anniston Star, the announcement reads "The J.C. Wheeler Motor Company and the Oxford Motor Company, which have been operated under management of Mr. J.C. Wheeler and J.F. King, are now combined under the name King-Wheeler Motor Co."
King-Wheeler Motor Co. was located at 110 East Eleventh Street in downtown Anniston. Phone number 1179.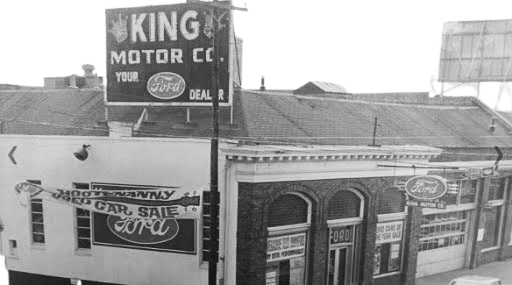 The policies of the King-Wheeler Motor Co. read "every transaction must be a satisfactory one to every customer…"
"Everything from the smallest service detail to the sale of a car or tractor MUST BE RIGHT and we invite you to call our attention to an irregularity, should some occur."

The Anniston Star | April 27, 1922
King-Wheeler used many newspaper advertisements to communicate with customers during 1922. Ironically, there was a big push for pre-ordering vehicles in the 20s – perhaps a prediction for the company's future in 100 years.
The Anniston Star | June 25, 1922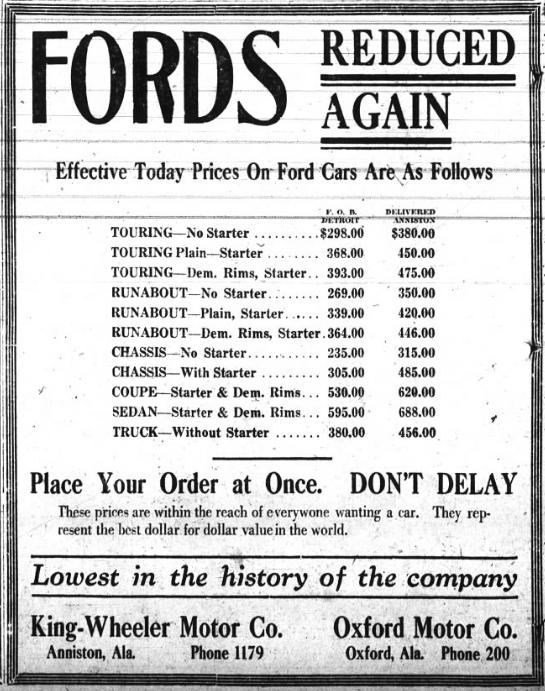 The Anniston Star | October 18, 1922
In the fall of 1957, E.D. King exchanged letters with Henry Ford II. They had eaten lunch together at a meeting in Detroit, MI the week prior. King writes to Ford inviting him to visit the International House at Jacksonville State University. 
Unfortunately, Ford was forced to decline King's offer to visit Anniston.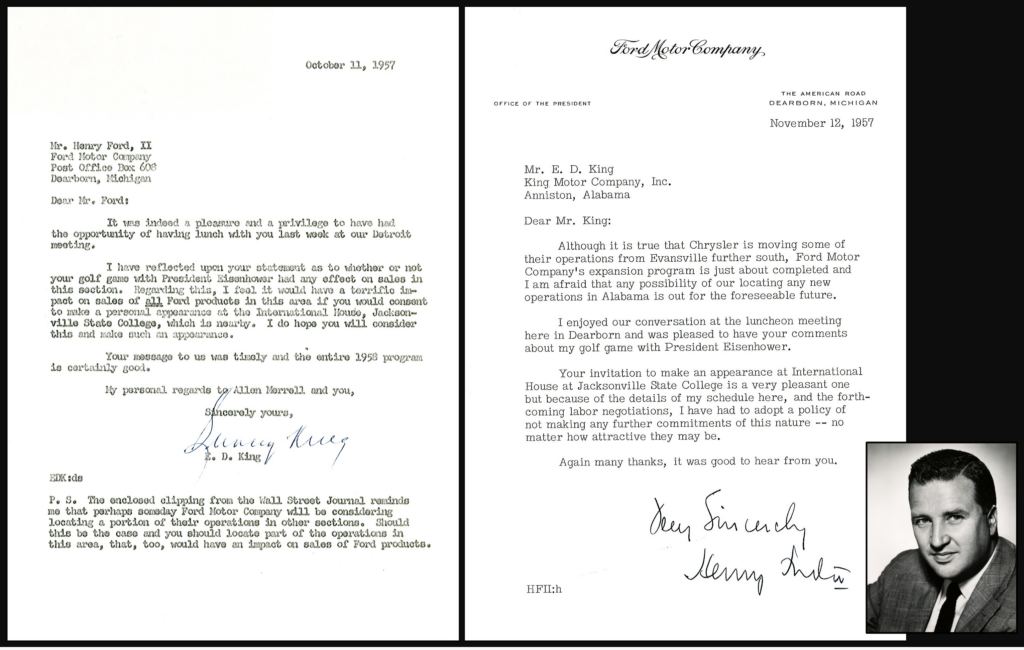 King Motor Moves to South Quintard
In 1971, King Motor Company moved to it's current location, 1507 South Quintard Avenue.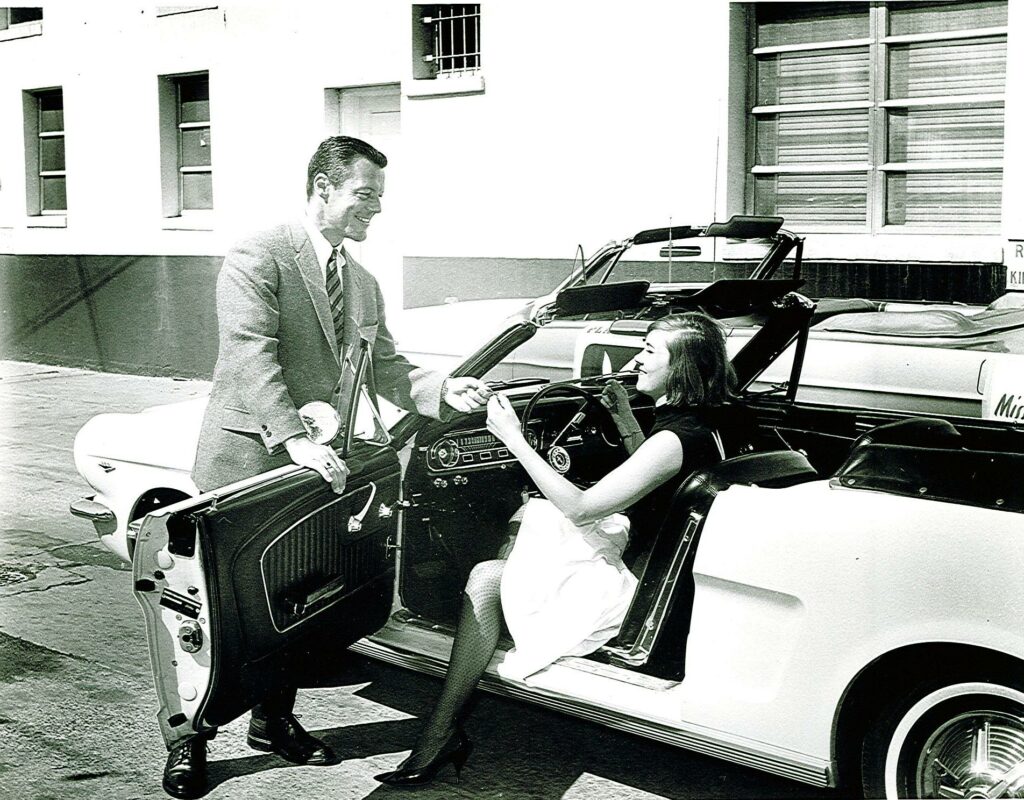 When E.D. "Sunny" King Jr. stepped into his role of running King Motor Co. it was obvious to anyone that he was a natural. He had a mind for business and passion for advertising.
Under Sunny's direction, King Motor Company grew to include 10 franchises by 1988: Ford, Honda, Chrysler-Plymouth, Isuzu, Subaru, Volvo, Sterling, and Yugo franchises in Anniston, as well a Honda store in Auburn and Acura dealerships in Birmingham and Huntsville.
In 1987, Sunny King was named the Alabama TIME Quality Dealer. 
The honor recognized King's outstanding performance, both as an automobile dealer and as a valued citizen of his community.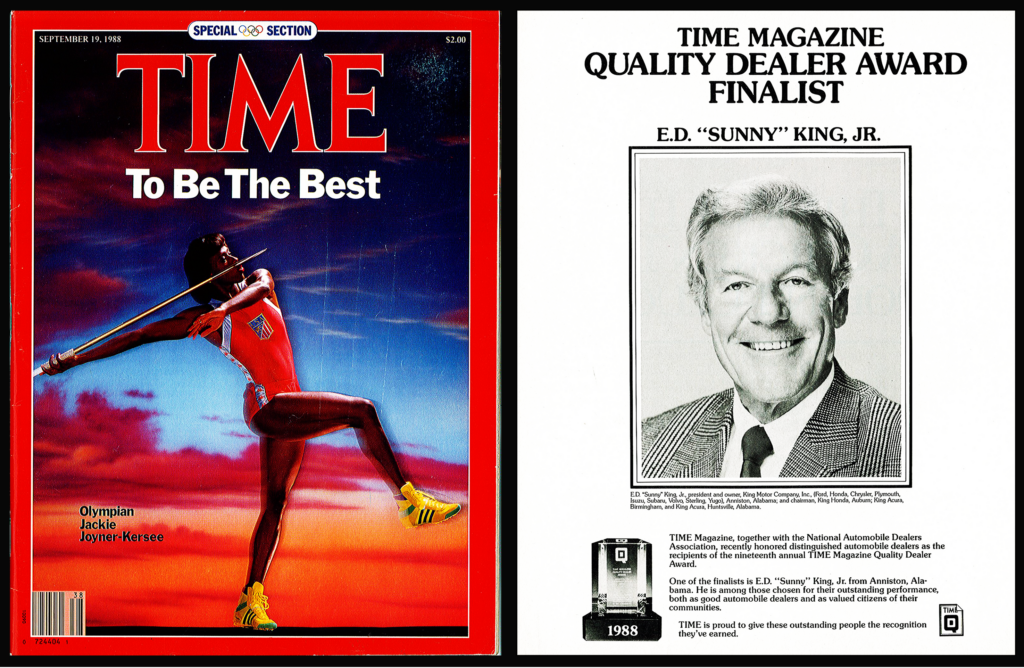 Racing was a major part of the King Motor Co. brand in the 1970s and 1980s. King began sponsoring cars on the NASCAR circuit in 1969 and provided the Sunny King Driver's Award to the top finishing Ford driver in the Talladega 500 and the Winston 500.
Bill Elliot, Donnie Allison, and Ken Schrader all drove Sunny King cars at one time, and the Sunny King race car is now housed at the Talladega Speedway Museum.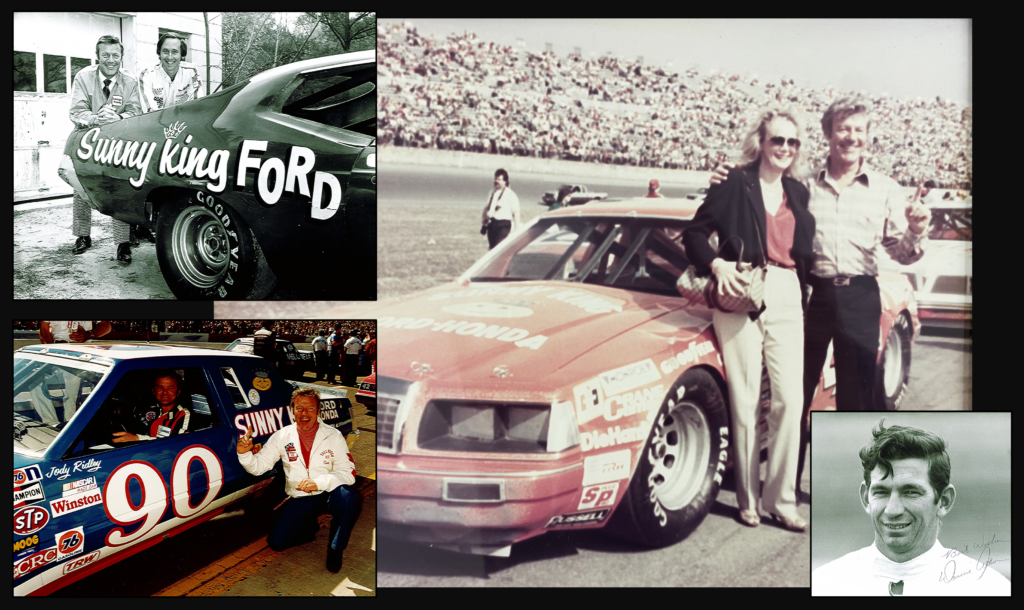 Sunny passed away in 1990. He loss was felt deeply by his family, friends, employees, and community. His legacy lives on in the success of Sunny King Automotive, and we are proud to remember his impact on this company and this community.
Send us an Anniversary Wish
Enter your name, email address, and message below. We will use these messages as part of our celebration at the 100th Anniversary Community Event on April 28, 2022.