Celebrating 100 Years in Anniston
Sunny King Automotive Group is proud to celebrate a century in Anniston, AL. Our anniversary date is April 22.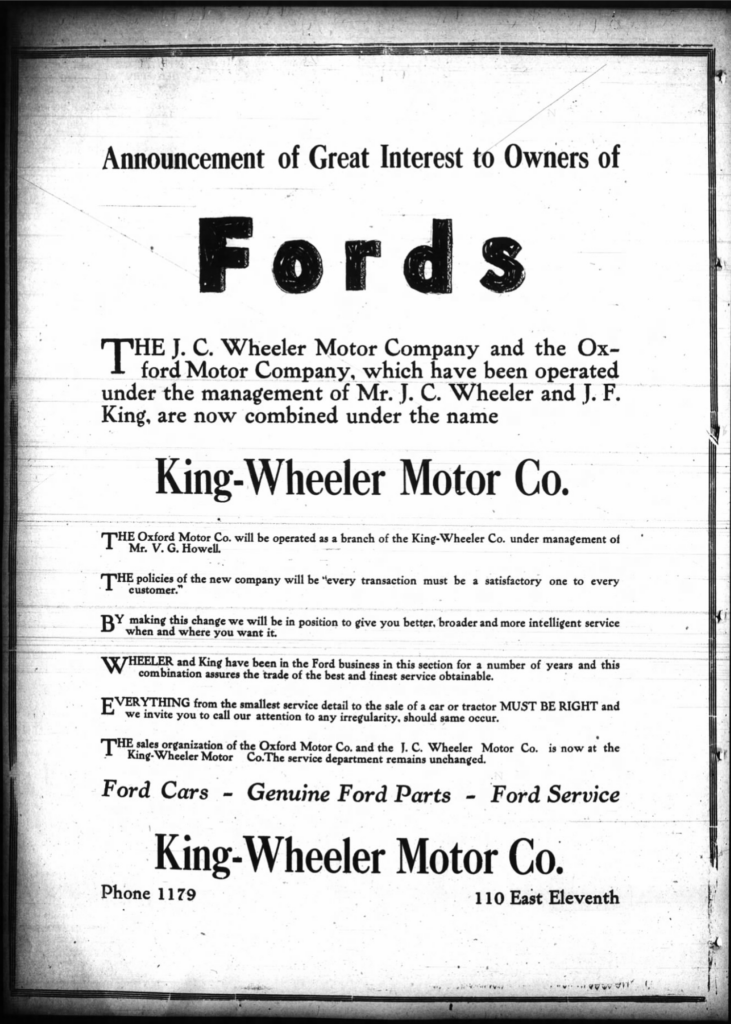 Sunny King Automotive Groups was originally known as King-Wheeler Motor Co. 
In the April 7, 1922 edition of The Anniston Star, the announcement reads "The J.C. Wheeler Motor Company and the Oxford Motor Company, which have been operated under management of Mr. J.C. Wheeler and J.F. King, are now combined under the name King-Wheeler Motor Co."
King-Wheeler Motor Co. was located at 110 East Eleventh Street in downtown Anniston. Phone number 1179.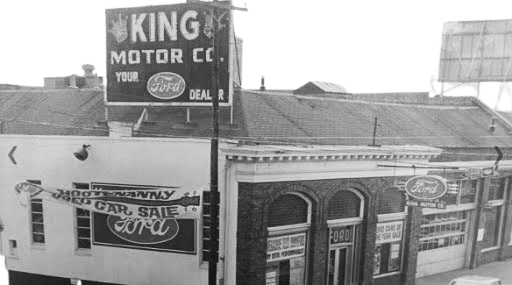 The policies of the King-Wheeler Motor Co. read "every transaction must be a satisfactory one to every customer…"
"Everything from the smallest service detail to the sale of a car or tractor MUST BE RIGHT and we invite you to call our attention to an irregularity, should some occur."

The Anniston Star | April 27, 1922
King-Wheeler used many newspaper advertisements to communicate with customers during 1922. Ironically, there was a big push for pre-ordering vehicles in the 20s – perhaps a prediction for the company's future in 100 years.
The Anniston Star | June 25, 1922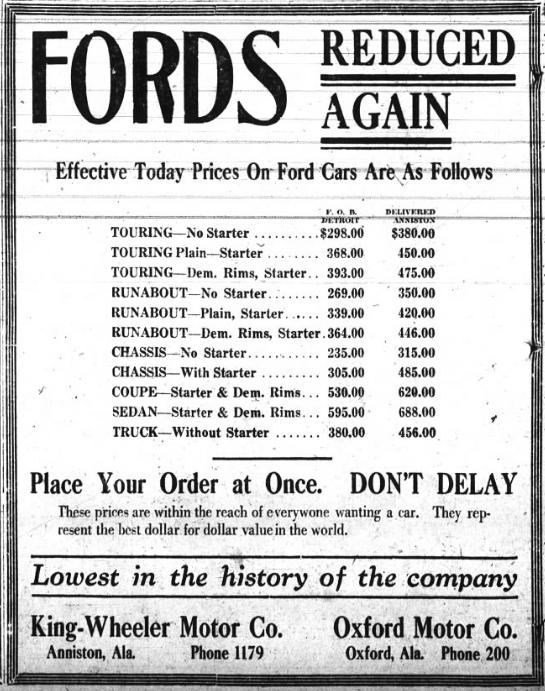 The Anniston Star | October 18, 1922
In the fall of 1957, E.D. King exchanged letters with Henry Ford II. They had eaten lunch together at a meeting in Detroit, MI the week prior. King writes to Ford inviting him to visit the International House at Jacksonville State University. 
Unfortunately, Ford was forced to decline King's offer to visit Anniston.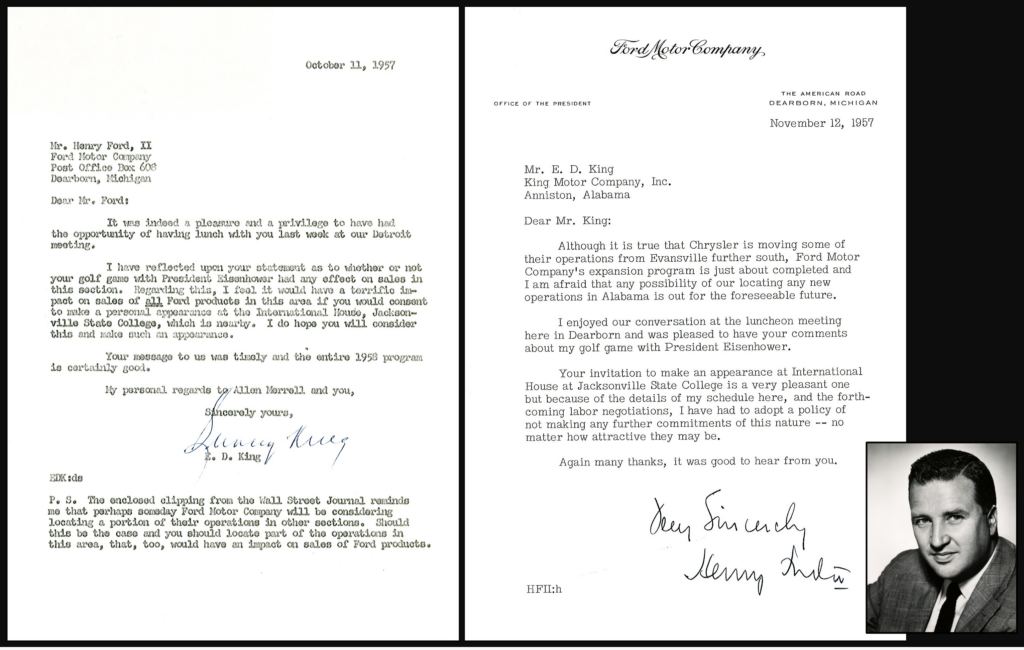 King Motor Moves to South Quintard
In 1971, King Motor Company moved to it's current location, 1507 South Quintard Avenue.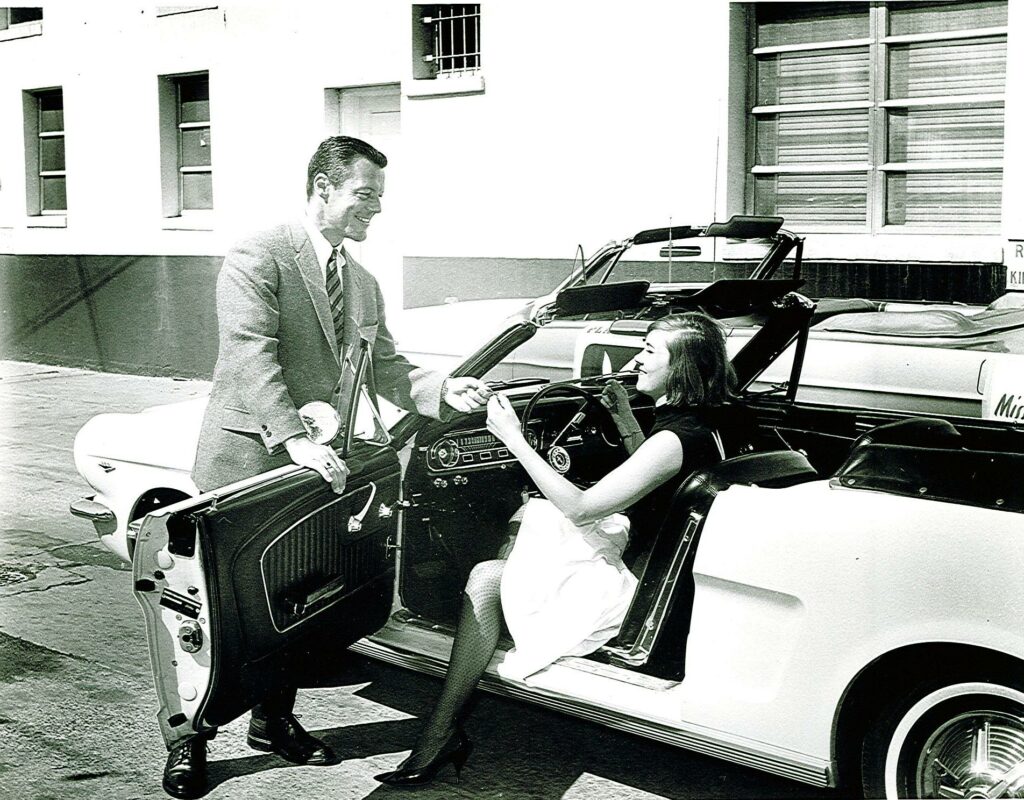 When E.D. "Sunny" King Jr. stepped into his role of running King Motor Co. it was obvious to anyone that he was a natural. He had a mind for business and passion for advertising.
Under Sunny's direction, King Motor Company grew to include 10 franchises by 1988: Ford, Honda, Chrysler-Plymouth, Isuzu, Subaru, Volvo, Sterling, and Yugo franchises in Anniston, as well a Honda store in Auburn and Acura dealerships in Birmingham and Huntsville.
In 1987, Sunny King was named the Alabama TIME Quality Dealer. 
The honor recognized King's outstanding performance, both as an automobile dealer and as a valued citizen of his community.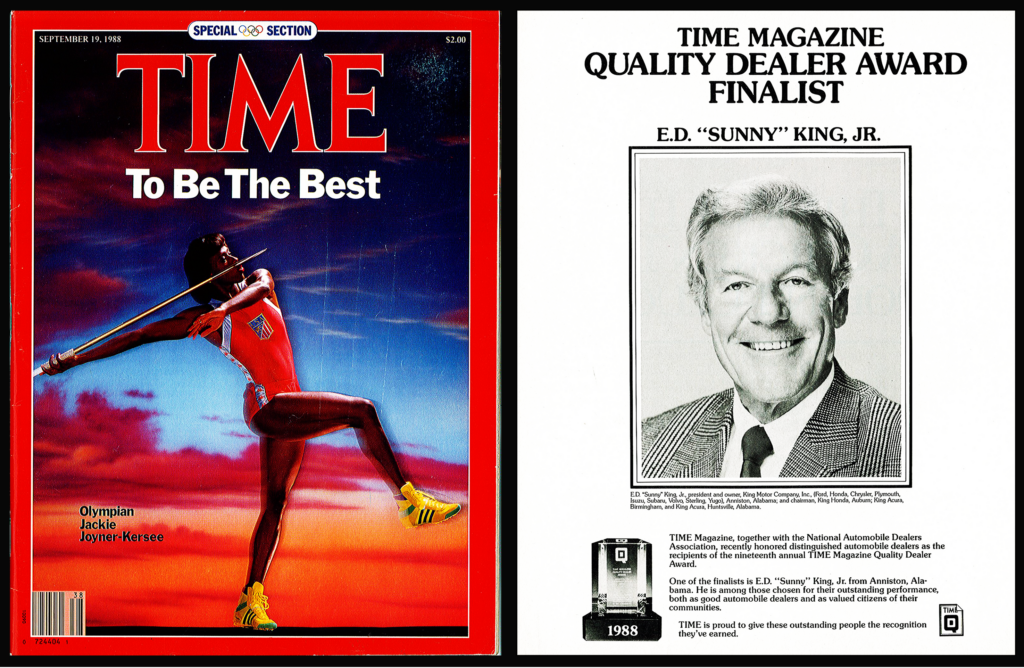 Racing was a major part of the King Motor Co. brand in the 1970s and 1980s. King began sponsoring cars on the NASCAR circuit in 1969 and provided the Sunny King Driver's Award to the top finishing Ford driver in the Talladega 500 and the Winston 500.
Bill Elliot, Donnie Allison, and Ken Schrader all drove Sunny King cars at one time, and the Sunny King race car is now housed at the Talladega Speedway Museum.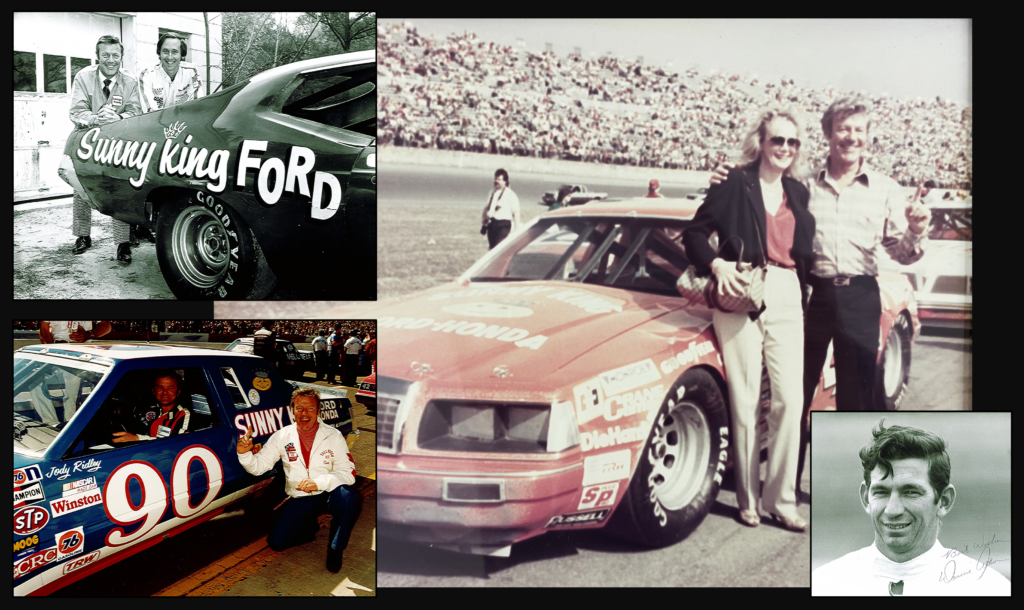 Sunny passed away in 1990. He loss was felt deeply by his family, friends, employees, and community. His legacy lives on in the success of Sunny King Automotive, and we are proud to remember his impact on this company and this community.
Send us an Anniversary Wish
Enter your name, email address, and message below. We will use these messages as part of our celebration at the 100th Anniversary Community Event on April 28, 2022.
E. D. King acquired the Ford Motor Company franchise currently operated by King Motor Co., Inc. d/b/a Sunny King in 1922. It is the second oldest Ford franchise continuously operated by the same family in the state of Alabama and the 18th oldest Ford franchise continuously operated by the same family in the United States.
Through a 1922 merger involving principals E. D. King, J. F. King, and J. C. Wheeler, as well as Wheeler Motor Company and Oxford Motor Company, King-Wheeler Co. emerged as the franchise dealer for Ford vehicles. An advertisement appearing in the April 7,1922 edition of The Anniston Star advised the reader that both King and Wheeler had been "in the Ford business for a number of years" and claimed that the new combination assured "the trade of the best and finest service available."
King Wheeler Motor Co. was conveniently located at 110 East Eleventh Street in downtown Anniston, Alabama and the business retailed both cars and tractors. The company operated under the core principle that "every transaction must be satisfactory…to every customer."
At some point in time, J. F. King left King Wheeler Co. to pursue and operate a Lincoln franchise while E. D. King retained King Wheeler Motor Co. and continued to operate the Ford franchise. The name of the company was later changed to King Motor Company which was initially incorporated as King Motor Co. Inc. on the 15th day of December, 1947.
In the early 1950s the leadership of King Motor Company transitioned from E. D. King, Sr. the meticulous, organized businessman to E. D. King, Jr., the flamboyant, energetic promotor with the magnetic personality. E. D. King, Sr. became President and major shareholder in Anniston National Bank, the original predecessor to what is now Regions Bank.
Under the leadership of E. D. "Sunny" King, Jr. Sunny King Ford became a local household name through the power of print and electronic advertising and promotion at every opportunity. NASCAR stock car racing related promotion was constant through sponsorship of successful drivers including Bill Elliot, Donnie Allison, and Ken Schrader.
In 1971 the expansion of Sunny King Ford required relocation to a newly constructed facility located at 1507 South Quintard Avenue in Anniston, Alabama. This would prove to be the beginning of continued expansion from 1971 through 1989 with the addition of Honda, Chrysler Plymouth, AMC-Jeep-Renault, Isuzu, Subaru, Yugo, Daihatsu, Hyundai, Volvo, Sterling, Pontiac-Cadillac-GMC, and Toyota franchises in Anniston, Alabama. Additional Honda franchises were opened in Auburn, Alabama and Sylacauga, Alabama and Acura franchises were located in Hoover, Alabama and Huntsville, Alabama.
E. D. King, III and Henry L. King continue to operate the Auburn Honda franchise and the Hoover Acura franchise respectively, to this day.
E. D. King, Jr. became a well known, accomplished community leader throughout his career. His many accomplishments included Time Dealer of the Year for the state of Alabama (1988), Anniston Star Citizen of the Year 1988 and an invitation to join the Honda Dealer Council.
Charitable contributions and support of local community service organizations were always a focus of E. D. King, Jr. and his organization. Organizations such as Knox Concert Series, Northeast Alabama Boys and Girls Club, J.S.U Foundation, Rainbow Omega, Salvation Army, United Way, Cerebral Palsy Center, CAST, Alabama Baptist Children's Home, and numerous schools, churches, and local charities have benefited from this long term generosity. Notable annual events such as the Sunny King Charity Classic, the Woodstock 5K, and the Sunny King Criterium, continue to receive regular funding from the Sunny King Automotive Group organization.
One September 11, 1990, E. D. King Jr. passed away following a brief battle with cancer. Patricia M. King became the third successive King to assume the leadership role  of the organization, taking control during a difficult business (recession) and legal tort (tort hell) environment. In 2015 John T. Bryan, Jr. became the fourth President of King Motor Co., Inc., and the first person not named King to assume that position following the three King presidential succession of E. D. King, E. D. King, Jr. and Patricia M. King. Through the leadership of Patricia M. King and John T. Bryan, Jr. the Sunny King Automotive Group organization was able to survive this difficult time, regain its footing and methodically accelerate with a pattern of growth and accomplishment largely unexpected in the local community.
The company divested itself of franchises experiencing marginal performance and focused its financial resources and management talent on Ford, Honda, and Toyota franchises. New facilities were constructed for Sunny king Honda (2002) and Sunny King Toyota (2006) in Oxford, Alabama. A major renovation of the 1507 South Quintard facility of Sunny King Ford in Anniston, Alabama was undertaken and completed in 2013.
As verbalized by Lean Smith, former mayor of the city of Oxford at the 2006 Grand Opening of the new Toyota facility – "Everybody said 'they can't run that business' – y'all surprised everybody."
With the one-hundredth anniversary fast approaching the Sunny King organization is alive, well, and thriving.